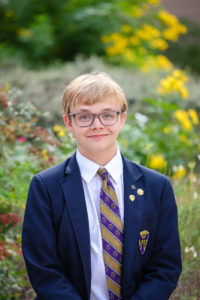 What is the most influential book you read besides the Bible? Why?
Frankenstein was the most influential book I have read. It, among others I have read throughout my life, make the reader think about how one thing, big or small, can affect so many of those around them, directly and indirectly.
What is your favorite or funniest moment at Geneva? 
My favorite moment at Geneva would probably have to be any moment in Southwick's class sophomore year. Every day, that class was so entertaining.
What will you miss most when you leave Geneva?
I will miss the Geneva community and people the most.
Who has influenced you most while at Geneva? How?
Many people have influenced me while I have been at Geneva. However these three individuals stand out to me: Mr. Southwick, Miss Thomas and Mrs. Jeffcoat. These teachers were always so interesting and made me look forward to their classes.
What does being a Geneva student mean to you?
Being a Geneva student means learning to rise to a higher standard.
How would you encourage a Geneva kindergartner to persevere in school?
I would encourage a Geneva kindergartner to try your hardest. I would tell them to enjoy themselves and try to get as much sleep as possible.
What about Geneva do you hope never changes?
I hope the community at Geneva never changes.