What is your favorite or funniest moment at Geneva?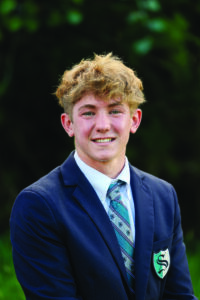 My favorite moment at Geneva was running with our AIM buddies and Walker Diemund at Jogathon.
What will you miss most when you leave Geneva?
I will miss the friends that I have made during this last year. Since I am considering the military after high school, sometimes I doubt I will ever hang out with them again.
Who has influenced you most while at Geneva? How?
Mr. Arizpe has influenced me the most at Geneva, because we have a lot in common and he is super funny and can have good conversations.
What does being a Geneva student mean to you?
Being a Geneva student means developing strong personal relationships with teachers.
How would you encourage a Geneva kindergartener to persevere in school?
I would encourage a Geneva kindergartner to not get too caught up with academics and to take some time in middle school and High school just to goof off and enjoy life, maybe even get into some trouble. In the long run I think a lot of people look back and wish that they had more fun when they were young.
What about Geneva do you hope never changes?
I hope that the nature part of the school never changes. I like being able to walk around the trees when I need to go to a different class. It refreshes my brain in between classes.