What is the most influential book you have read besides the Bible? Why?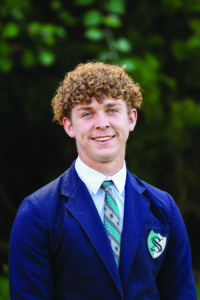 The most influential book I have read is The Heart of Darkness because it really made me think about morality.
What is your favorite or funniest moment at Geneva?
Eating the one chip challenge for cinema and throwing up three times because of it.
What will you miss most when you leave Geneva?
The family and community that Geneva brings.
Who has influenced you most while at Geneva? How?
Mr. Poole. He taught me that school can actually be fun.
What does being a Geneva student mean to you?
To be a Geneva student means to prioritize God over all things.
How would you encourage a Geneva kindergartener to persevere in school?
It will go by way quicker then you think. Stay focused, don't give up, work hard but don't forger to have fun as well.
What about Geneva do you hope never changes?
I hope the feeling that Geneva is a family, rather than a bunch of random people who all are forced to go to school together never goes away.