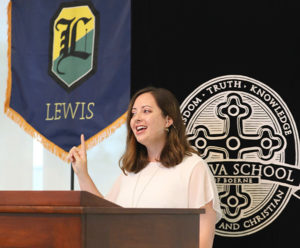 The Senior Thesis Presentations began today and will continue through next week in the school's Lyceum. Click here for the 2019 Senior Thesis Presentation Schedule.
For the first time, a Geneva faculty member gave a thesis presentation. Mrs. Hillary Short, Director of the Senior Thesis Program, kicked off the week when she delivered her own presentation on a chapter she wrote for the book Mama Bear Apologetics: Empowering Your Kids to Challenge Cultural Lies which will be released in June. Mrs. Short's thesis is titled "Roar Like a Mother: How to be a Mama Bear Apologist."
Please take a look at the schedule and plan to come support our seniors in this endeavor—the capstone to a Geneva education.