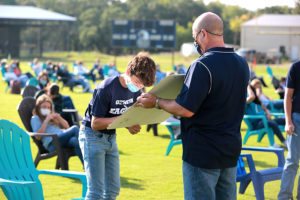 All Geneva Rhetoric School students attended an Honor Code Assembly on the Geneva football field recently in which Headmaster Rob Shelton outlined the school's Honor Code and pledge.
Although the signing process looked a bit different this year, each high school student is required to sign this code and is challenged to live by it while at Geneva, with the hope that it will instill a personal code of lifelong integrity and honor. The signed Honor Code is displayed in the administrative office for all to see and remember their commitment and pledge.
The following students were elected by the peers in their grades and unanimously approved by the faculty for the weighty privilege of serving on this year's Honor Council. The new members are freshman Will Muck, sophomore Gage Secor, juniors Sydney Griffey and Kevin Vogt, and seniors Gracie Janse, Katherine Lacy and Jackson Young.