The Geneva magazine staff won a Gold Crown Award through the Columbia Scholastic Press Association for its work on the 2017-18 Geneva Quarterly magazine. This is the second year in a row that the staff earned this prestigious national honor and distinction in high school journalism.
There were 1,181 publications from across the United States submitted for Crown consideration, with only 80 publications receiving the level of a Gold Crown. The senior editors, along with their adviser Becky Ryden, received the award in person last week at the CSPA Conference at Columbia University in New York City. The staff was named a Gold Crown Award Win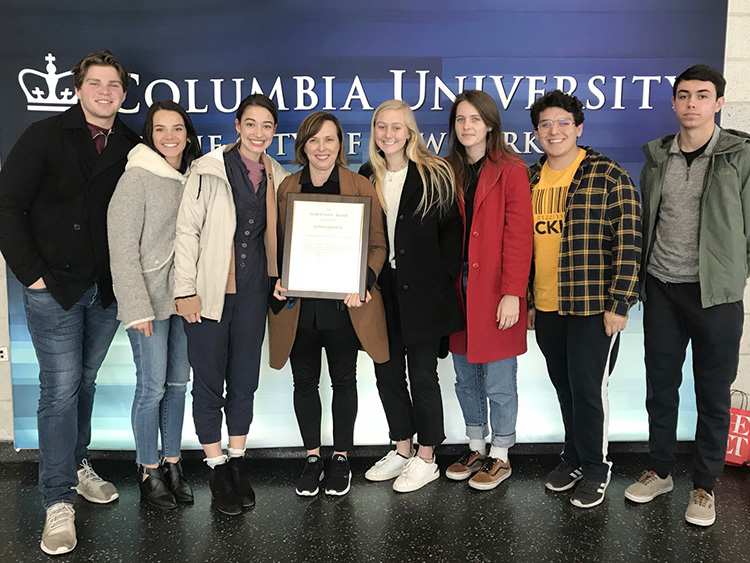 ner in 2017-18 and earned the Silver Crown Award in 2016-17.
Founded in 1925, the CSPA unites student editors and the faculty advisers working with them to produce student newspapers, magazines, yearbooks and online media. The CSPA is owned and operated by Columbia University. The Gold Crown Award is the highest honor given in the various categories.
"The trip to New York was such a capstone for our students," Geneva Quarterly adviser Becky Ryden said. "Winning the Gold Crown is the highest award we could obtain. I am so proud of the entire staff for their hard work in producing such a stellar magazine that our community truly loves."
Staff members who contributed to the 2017-18 magazine were Carissa Georgelos, Emme Owens, Ruth Wacker, Audrey Ryden, Lauren Jarvis, Jacqueline Knox, Aisling Ayers, Anna Riedlinger, Nathan Young, Nathan Zuniga, Jayne Goodman, Braden Hall, Matthew Schroder, Gracyn Freiling, Alexa Georgelos, Gabi Griffey,  Anson Eggerss, Sydney Dennis, Ashton Landis, Luke Bower, Taylor Tippit and Daniel Grover.