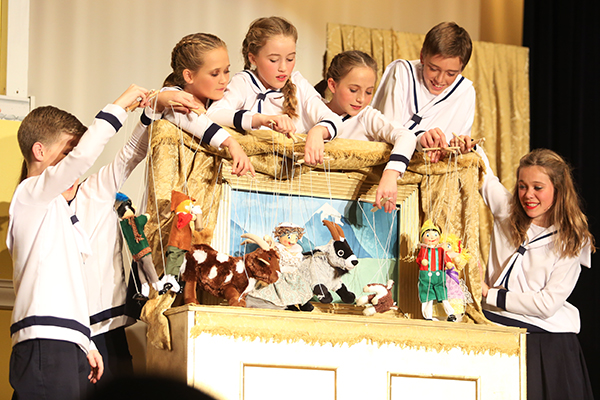 The Geneva Fine Arts Department recently finished its production of "The Sound of Music." This musical has become a beloved classic around the world and is based on the true story of "The von Trapp Family Singers." It captures a personal tale of growth and hope amidst the horrors of World War II.
"What a thrill this production has been. I am very pleased at the extraordinary efforts of our students, and I praise God for this show," the show's Artistic Director Ben Vis said.
Geneva's production included more than 100 students, faculty and parents who came together to produce it since school began in September. Tryouts were held on the first day of school in early September. The cast included students from fourth to twelfth grades who portrayed a delightful variety of characters.
Maria was played by senior Charlotte Walker who began her acting career as a small girl when she played the youngest von Trapp child named Gretl in a New Braunfels production.
"This show holds a special place in my heart since I began my acting career as Gretl and close out my acting career at Geneva as Maria. This show reflected what a truly unique place Geneva is and why it will be so hard to say goodbye," Walker said.
Other key roles were played by junior Jack Swanson (Captain von Trapp), senior Gracyn Freiling (Elsa Schraeder), senior Noah Nilsson (Max), junior Alethea Ward (Mother Abbess), junior Jose Ballí (Rolf) and freshman Mattie Sue Arnold (Liesl).
The show was accompanied by a live orchestra comprised of Geneva students and faculty. It was led by Ben Vis with a faculty leadership team including Character Director Autumn Jones, Technical Director Doug Hurt, Audio Engineer Luis Arizpe, Fine Arts Director Gradi Evans and Orchestra Pit Organizers Sarah Gachupin and Erin Thomas.