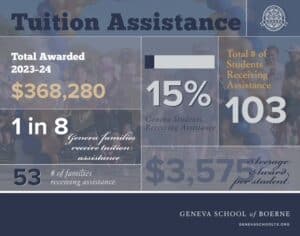 Geneva offers tuition assistance to families with students in good standing and with a demonstrated financial need.  
Geneva uses an outside agency, FACTS Grant & Aid Assessment, to analyze applicants' financial data and evaluate financial need. Assistance is awarded to qualified candidates on a year-by-year basis. An award one year does not guarantee future assistance, and a decision of "no award" one year does not necessarily mean that assistance will not be offered in the future. Tuition assistance at Geneva may cover up to (but not more than) 75% of the current year's tuition for each student. The remaining balance is to be paid by the student's family.  
Please view additional information on tuition assistance below. If you have questions, please contact Enrollment Coordinator Nicole Nicholson or call 830.375.5299.