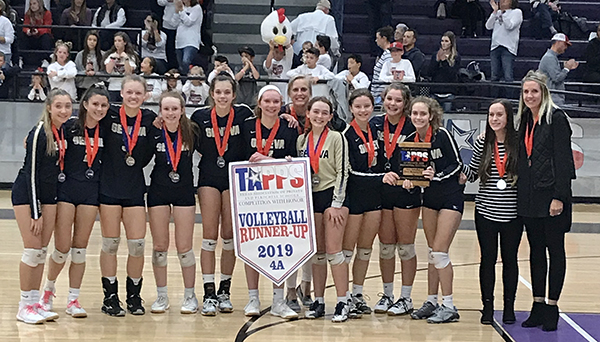 The Geneva varsity volleyball team finished its season as TAPPS 4A Volleyball State Runner-up with a loss to Lubbock Trinity Christian in four sets (22-25, 25-17, 23-25, 21-25) in the State Championship Game on Friday in Waco. Eagles players Karynn Garrow, Katherine Lacy, Lily Radigan and Chloe Higgs earned All-Tournament Team honors. The Eagles were 35-4 on the season.
"I am so incredibly proud of these girls. In February they said their goal was to go to State. I scoffed and said let's talk about daily goals. These girls showed me that they meant business and that achieving your daily goals eventually adds up to achieving your big ones. I've learned more from this team about life, God, friendship, sacrifice and never giving up. They changed me for the better. It looks like we will move to 5A next year and I'm telling them my goal is to win State. Maybe with the coach having a big dream too, these girls will be in that tourney one more time together. We graduate no one (there are no seniors on the team) and we have now tasted it and know what it takes to get to the championship game. Geneva volleyball will be ready to go on August 1, 2020," Coach Shelly Vaughn said.
Congratulations to the team (from left in this photo): Alexis Davis, Emma Grace Erfurt, Katherine Lacy, Lily Radigan, Karynn Garrow, Lily Langenbahn, Coach Shelly Vaughn, Chloe Higgs, Katie-Grace Styles, Avery Myrick, Ainsley Plesko, Coach Madison Nagy and Coach Tami Owens on an incredible season! Also congratulations and thanks go out to the Geneva community who cheered and supported them so well all season!