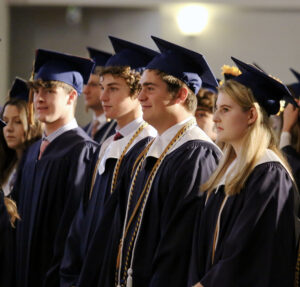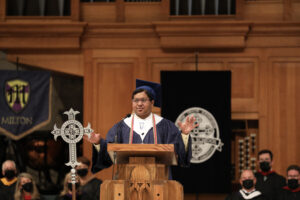 The 2021 Commencement Exercises were on Saturday, May 29, University United Methodist in San Antonio. This class of 54 seniors is the eleventh graduating class of Geneva School.
The Class of 2021 had 22 students who are members of the Geneva Guild which recognizes those who began at Geneva in kindergarten and completed all 13 years at the school. The 2021 Geneva Guild members are Cade Barone, Soren Burkholder, Alexis Davis, Emma Grace Erfurt, Jackson Friesenhahn, John Henry Friesenhahn, Cody Lane George, Alexa Georgelos, Quentin Hartman, Quincie Hartman, Grey Herlihy, Hayes Hutton, Gracie Janse, Corvin Jonas, Hannah Ledoux, Katie-Grace Styles, Jack Swanson, Julian Claire Treusdell, Austin Turgon, Emma Wilson, Jackson Young and Lindsey Zuniga.
The Commencement Exercises began with a prelude of classical music. The processional, "Land of My Youth," was played on bagpipes as the faculty and members of the Class of 2021 entered.
Interim Head of School Amy Metzger gave the welcome and Kevin Young, Geneva parent and former Board Member, offered the opening prayer. Valedictorian Alex Iyer and Salutatorian Gabe Ross each addressed the graduates personally in their speeches before the assembly sang the hymn "Great is Thy Faithfulness."
Rob Shelton, the outgoing Rhetoric School Headmaster, delivered the Commencement Speech "Virtues as Verbs." He encouraged the graduates to have the mind of Christ as they live classical virtues of truth, beauty, goodness, faith, hope and love.
After the graduates were conferred, the community sang the Alma Mater and the hymn "Non Nobis," which is Latin for "Not unto us, O Lord, but to Your name give glory" from Psalm 115:1.
Dr. David Corbin, Incoming Head of School, offered the closing prayer. The Faculty Choir sang "The Lord Bless You and Keep You" before the Commencement Exercises closed.