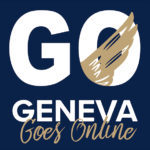 Geneva School began virtual learning on Monday, March 23, with teachers and students diligently embracing this new way of remote education during the current social distancing restrictions called for as a result of the coronavirus (COVID-19).
"Our entire Geneva community of faculty, staff, students and parents have all come together to make the best of this situation. Our Geneva distinctives are playing out in action during this challenging and uncertain time," Geneva Development Director Amy Metzger said.
The school is characterized by five distinctives:
teaches from a Christian worldview
upholds the classical ideals of truth, beauty and goodness
deeply-invested teachers
fosters a tight-knit, engaged culture
values a commitment to excellence in all things
"We are grateful for the opportunity to connect with students and continue the learning process. Praises go out to our amazing faculty for the hours they have spent planning and preparing for this virtual learning program and to all of the students who are working diligently from home," Grammar School Headmaster Jessica Gombert said.
Geneva's 690 students in K-12 are participating in this virtual learning program as they celebrate their 20th anniversary this year. Geneva is a classical and Christian school which began in 1999 with 13 students in borrowed classrooms at St. John Lutheran Church and moved to the current campus at 113 Cascade Caverns Road in 2004.
Geneva high school students compete in the Texas Association of Private and Parochial Schools (TAPPS) 4A division for academic, athletic and fine arts competitions throughout the school year and won the Henderson Cup Award as the best overall school for the past two years in TAPPS 4A. Although these activities have been suspended for the foreseeable future, the school plans to compete at the TAPPS 5A classification for the 2020-2021 school year.
The tenth graduating Geneva senior class is set to graduate in May 2020, although details are yet to be determined.
Keep up the good work and remember to read and trust the words of Psalm 91! We are Geneva and we are in this together!